In our previous co-working space round-up posts we looked at Projects Club, Spaces and Werks Group (you can find part one here) along with PLATF9RM, the Skiff and Plus X (in part two here). Turns out we're not done yet though, as there are even more options for Brighton co-workers for us to review. So without further ado let's take a look at part three of Brighton's best co-working spaces.
Dimple's Desks
A simple name for a simple offering. Dimple's Desks is a no-frills co-working space in the Fiveways area of Brighton (up the big hill of Ditchling Road on the way to Hollingbury and Stanmer). It's a very pleasant area, though mostly residential and it's a bit of a trek from the main station. However Preston Park, London Road and Moulsecoomb stations are all a little closer, but do expect a climb, no matter which you attempt the walk from!
Given its location this will most likely appeal to residents in the area seeking somewhere convenient to spend occasional working days. Offering the basics of tea, coffee, biscuits, broadband and (perhaps most importantly) company, this isn't a massive space and doesn't have the bells and whistles of places like PLATF9RM and Plus X, but at the same time it doesn't pretend to be anything its not, and this is reflected in the prices.
Costs: You can get 1 day per week access for just £49 per month, which is the cheapest we've found anywhere in the city. Full time access can be bought for £199 per month and they also offer private offices from £299 per month which is cheaper than some places offer for single desks in communal spaces!
Pros: Let's be honest, it's tough not to look beyond the price being the biggest driver of interest in Dimple's Desks and if the location is convenient to you then it will likely be very tempting to try it out.
Cons: It's not massive and there's very limited space for privacy if you want to hold meetings or calls. Also the location will likely only appeal if you already live in the area, otherwise it's a bit out of the way. Though Fiveways is a lovely part of town with a handful of pleasant local shops and cafes.
Find out more: https://dimplesdesks.co.uk/
Freedom Works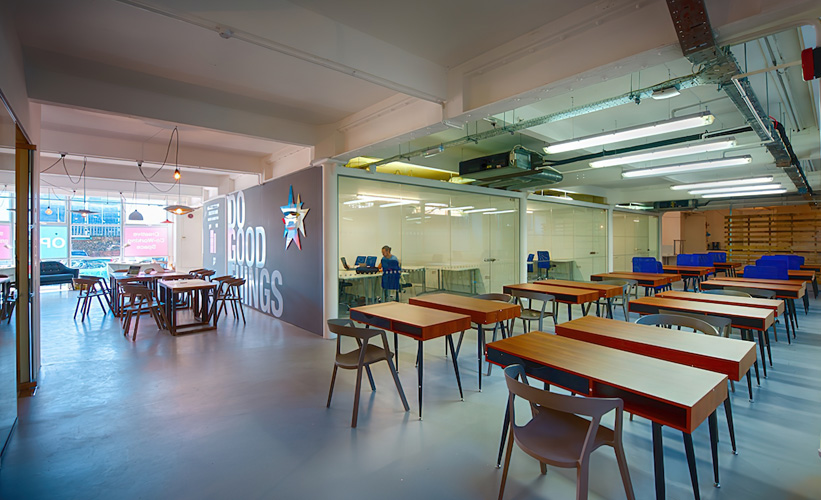 With sites across Sussex (as well as Southampton), Freedom Works is an established player in the region, with a well located local space occupying an old warehouse next to Hove station. This airy, open building has a rough and ready industrial feel, featuring co-working desks, private offices, meeting and event space and even media suites. As well as being a well appointed, well located building, Freedom Works members also benefit from being able to access their "support and accelerator" service, providing business mentoring and assistance for those seeking it.
They are keen to promote socialising and collaboration, and there are free beers for all on Fridays from the onsite bar. Given its location slap bang next to Hove's mainline station, this will certainly appeal to both Hove residents and those further afield knowing it's so easy to access and sits in a bustling part of town with plenty of places to visit in the area (the nearby Watchmakers Arms is one of the city's best micropubs and there are plenty of great options for coffee lovers).
Costs: You can either pay as you go for access by the hour (minimum two hours) or there are monthly membership packages of 8, 16, 40 or 80 hours per month, which allow for 24/7 access. 8 hours per month memberships starts at just £18 whilst pay as you go prices start at £22.50 for 8 hours. The 40 hours per month package (which is effectively one day per week) comes in at a very reasonable £80. Dedicated desks start at £275 per month. Memberships also include access to Freedom Works' other sites in Worthing, Chichester, Gatwick, Crawley, Lancing, Southampton and Hastings.
Pros: A great location and a nicely set up, well run space. The ability to share your membership across their numerous other Sussex sites will also be an advantage to those who travel around the local area.
Cons: It's not the sexiest building in the world and the big open shape of it won't appeal to everyone. The bare bones aesthetic can make it feel a little sterile.
Find out more: https://www.freedomworks.space/locations/hove/
Yolk House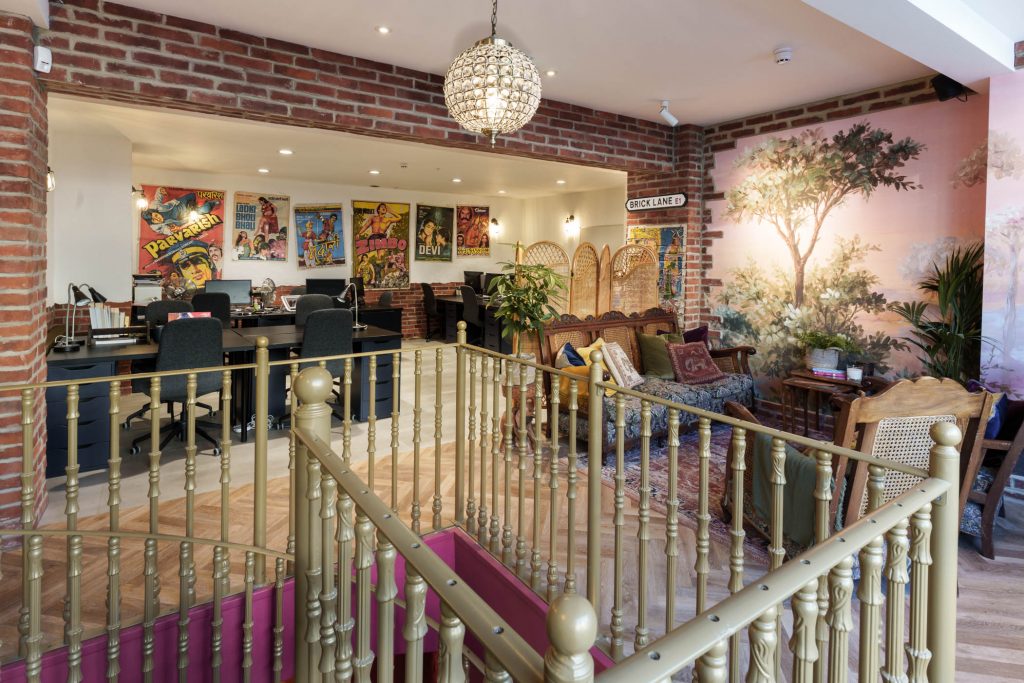 Formerly known as Comarketing, this very cool, very smart, high end space situated off St James' Street bills itself as a co-working community for those in the world of marketing. This might make it sound a bit more exclusive but in practice they tend to be pretty accommodating to most people so long as you're not some finance exec working for a bank!
Yolk House offers co-working and permanent desks either side of its central foyer and kitchen area. The first thing you notice is the exceptionally high standard to which this place has been finished, with a real wow factor to their designer decor. What's more they've spared no expense on the tech either, with smartphone access, a proper barista quality coffee machine and multi room Sonos sound system that can be accessed and controlled by all, which allows for collaborative playlists and adjustable volume for different areas (even the toilets!)
As well as the desk areas there is a meeting room and a basement event-hosting space that's done up like a casino. Additionally the owners are working on another building right across the street which will provide even more space, presumably offering similarly sky-high standards. They also have a building in Farringdon should you need occasional visits to the big city.
Costs: Memberships start at just £49 per month, whilst 2 days per week access is £120 per month making it one of the best value options for those looking for an 80 hour membership.
Pros: As upmarket a space as you'll find anywhere in the city. There has been no expense spared in the way this place has been kitted out and it feels lovely as a result. The value of the memberships also gives it an advantage over some of the more established, bigger spaces like Projects and PLATF9RM.
Cons: The location won't be to everyone's taste, being a fair way up St James' Street on Brighton's east side. Though it's very close to the beach and in an area dense with shops, bars and cafes, it's a good 25 minutes' walk from the main station so doesn't have that city centre feel of some of its competitors. It's also not the biggest space as things stand, with just the one meeting room (which costs extra to use) being the only place to get any real privacy for taking calls. Consequently you'll often find people on Zoom/Hangouts/Teams in the communal space which can be frustrating. The new space they're currently developing across the street may very well help alleviate this issue.
Find out more: https://www.yolkhouse.com/
Finding Brighton Space to Call Your Own
We hope you've enjoyed our assessment of the many great options for Brighton remote workers and if you're thinking about expanding your operation to have more of a solid base than an occasional hot desk, you might find the time is right to seek out Brighton serviced office space. And if that's the case, JetSpace can help, just get in touch with us.