Following on from our previous post looking at some of the top spots for co-working across our great city (you can find part one here), we've got the second instalment right here. The places we've assessed are in no particular order, we've just split them out across multiple posts simply because there are so many. A creative digital hub like Brighton has a great many people looking for casual-use desks, so it stands to reason that freelancers, solopreneurs and remote workers would be well catered to with such choice.
We think co-working is a great option for many but also understand that some businesses are better suited to having their own serviced office in Brighton. We only offer the latter but are very happy to promote co-working too. So let's run through some more of Brighton's best co-working spaces.
PLATF9RM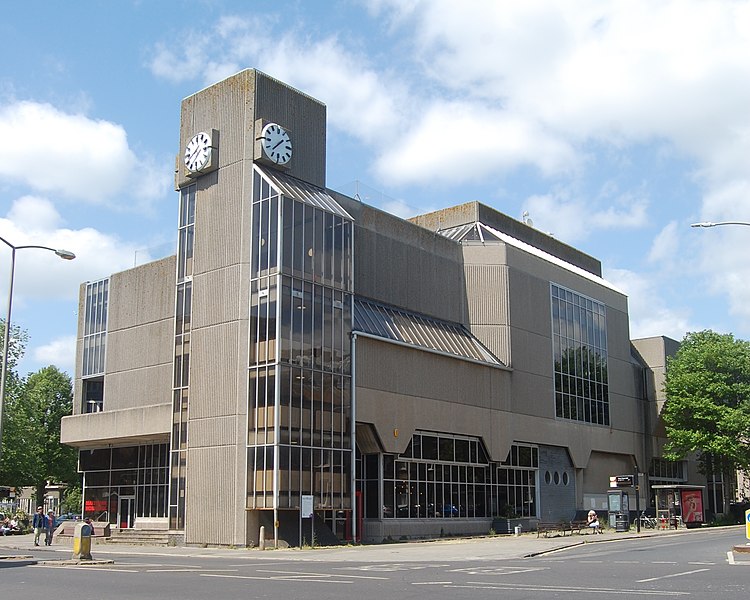 Generally pronounced Platform Nine, this is actually one of the largest and best known co-working brands in the city. Occupying space in two brutalist blocks from the 70s, co-workers have a choice of the quite fascinating Hove Town Hall or the somewhat dystopian looking Tower Point. The second option has more space, with PLATF9RM taking up two floors of this giant concrete behemoth, and its location will be better suited to most, being so close to the centre of town and Brighton station. The Hove Town Hall space, by comparison, is a little more geared up for hosting events, and occupying the lower portion of this building means you don't get the wonderful sweeping city views you can enjoy from Tower Point.
Both venues have been kitted out to a very high standard and feel distinctly modern and vibrant when compared to the exterior of the buildings they occupy. At Tower Point there are co-working desks, break out spaces, phone booths, meeting rooms and private offices. Whilst the Hove space has desks, meeting rooms and private offices along with larger event spaces for hosting all manner of creative endeavours.
Costs: Memberships start at £105 per month for 40 hours usage in one building, whereas unlimited access to both sites is available for £235.
Pros: The Tower Point space is slap bang in the centre of the city, just moments from the main station and has been designed to a really high spec. They're also very big on community events, with regular activities for members taking place all year round. Plus they offer onsite yoga sessions free to all members.
Cons: The Hove space can feel a bit rough and ready in places and isn't quite the same spec as their first site. Tower Point is a nicer setup but does suffer from being on the 7th floor of a giant building with just two lifts. If you're arriving at peak time be prepared to queue with the building's many other residents to get in.
Find out more: https://platf9rm.com/
The Skiff
These guys have been doing co-working since before co-working was even a thing. It's one of the original setups for allowing Brighton creatives a getaway from their homes and has built up a great community as a result. Located in a fairly bland looking red brick office building that's easy to miss amongst all the other bigger, newer buildings nearby (the imposing 90s built Trafalgar Place across the road is home to Spaces, as covered in part one), The Skiff may not have the glamour and glitz of some of its rivals, but it definitely has heart and history.
Proudly independent and managed by its members instead of being for-profit, the Skiff is one of the most genuine co-working hubs in the city. They don't just talk a good game, they really do want members to feel a part of the whole operation.
In terms of the space itself there are two main rooms for coworkers, a quite one and a noisy one. There's also a big kitchen/social space which can accommodate workers too, provided they enjoy the hubbub!
Costs: This is one of the cheapest options around, with a 40 hour membership costing £95 per month. What's more they offer a "moonlight" rate allowing unlimited access outside of regular office hours (i.e. all weekend and any time after 6pm weekdays) for only £49 a month, which will surely be a huge boon to any night owls.
Pros: It's friendly, it's well located and it's genuinely supportive of its members. Plus they have proper full sized desks with ergonomic office chairs and monitors for members to use. No perching on a barstool whilst balancing your laptop on a sliver of shelf here.
Cons: It does feel a lot more like a traditional open plan office, when compared to some of the more modern, purpose-designed co-working spaces like Projects and PLATF9RM. That's not necessarily a bad thing, and for some will be ideal. But if you're looking for a really jazzy space with multiple breakout areas to suit your working style, this probably isn't it.
Find out more: https://theskiff.org/
Plus X
Whilst most of Brighton's co-working spaces have been squeezed into retrofitted buildings originally intended for other uses, Plus X is to date the only purpose built co-working hub and as a result it really does look and feel quite special. There are a whopping seven storeys of dedicated space here, featuring numerous co-working spaces, private offices, meeting rooms, function/event spaces, studios for photography and podcasting, workshops, a cafe and even a spacious roof terrace for those summers where the sun actually bothers to show up.
It really is designed to suit the many needs of the flexible modern worker and with so much space the choice of where to plonk yourself means no two days need be the same!
Plus X describe their operation as an innovation hub, and consequently there's a big focus on support for startups and growing businesses looking to break the mould. There are plenty of community events for businesses of all shapes and sizes and the sheer scale of the place means networking opportunities are bountiful.
Costs: Membership starts at £150 a month for 24/7 access to all communal work spaces whereas a dedicated desk can be had for £300 per month.
Pros: The scale of the place with its many modern facilities makes Plus X an excellent choice for anyone who loves a modern, vibrant work space with plenty of options to suit your work style.
Cons: The one real downside to this huge temple of collaboration is its location. Built on the outskirts of town among the student filled Moulsecoomb neighbourhood, it doesn't actually lend itself well to convenience unless you happen to live nearby. It's quite a distance from the city's main station (though you can use nearby Moulsecoomb station which can be reached by train from Brighton and Lewes) and the surrounding area is all warehouse stores and housing estates. Whilst most Brighton co-working hubs are centrally located, allowing for lunch time walks through interesting streets filled with shops, bars and cafes, Plus X feels a lot more isolated. Though of course this might suit some people as the lack of distractions makes it less tempting to nip out and procrastinate.
Find out more: https://www.plusxinnovation.com/locations/brighton
Keep an eye out for part three looking at even more of the co-working options in Brighton and Hove