Launching a startup can be nerve-wracking for even the most experienced business owner. There are no guarantees in business, and every startup requires a lot of hard work, commitment and a drive to succeed.
Getting the right foundations in place will set you up for success, and part of that is all about the location you choose. It's not surprising that Brighton, with its thriving digital scene, was recently rated the 11th best city in which to start a business. We may be a little biased, but we have to agree!
The list, which was topped by Sheffield, Glasgow and Liverpool, was assessed on five key factors:
Business support
Infrastructure
Talent
Wellbeing
Business activity
So, how does Brighton fare on each of these points? Let's take a look!
Business Support
The city of Brighton & Hove is lucky to be home to so many vibrant business networking groups. From small startups to established firms, Brighton has a strong culture of supporting local businesses, and our entrepreneurs want to see each other succeed. Just take a look at the vibrancy of North Laine to see Brighton's support of independent businesses in action!
We're extremely fortunate to live in a city which puts such a strong emphasis on networking and creating the right connections, which is vital for that all-important business support – especially in the early days.
Infrastructure
Brighton's business infrastructure is fantastic, from our office space to our transport connections. We're just an hour from London on the train, and being the UK's only Green constituency there's a strong emphasis on our fleet of energy-efficient, hybrid buses which make local travel efficient and effective.
We also have plenty of options for workspace, ranging from the quirky to the corporate. Whether you need a base for five people to meet and collaborate or desk space for 200 employees, Brighton can provide, giving you the flexibility to scale up, scale down and find the perfect space for your workforce. We've also got great high-speed internet across the city, so the infrastructure is in place no matter how great your connectivity demands are!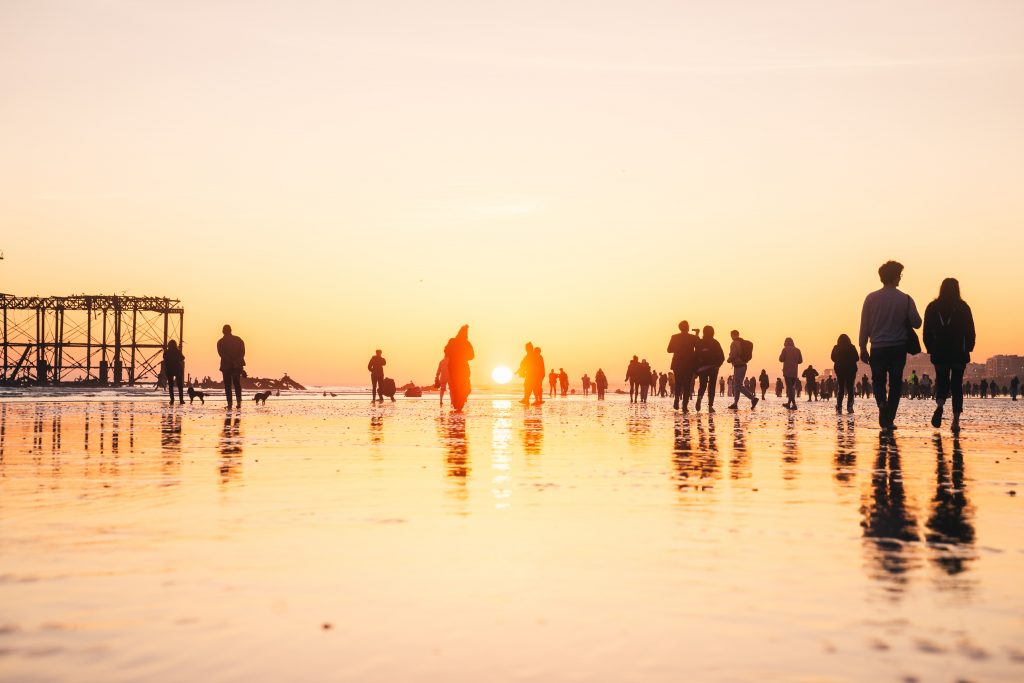 Talent
When it comes to talent in Brighton, where do we begin? The city is well known as a hub for creative talent – we're a destination bursting with artists, designers, writers and innovators, making this a brilliant place to be if you need ideas and energy.
We're also informally known as 'the UK's answer to Silicon Valley' owing to the large number of tech businesses located here, with a particularly thriving e-learning industry, so you're spoilt for choice when it comes to developers, website designers and technical experts. Not to mention the fact that there are more digital marketing agencies located here than anywhere else in the country outside of London.
In the Startups.co.uk index, Brighton ranked especially highly for its number of skilled workers, so businesses in the area can enjoy one of the best talent pools in the entire country when they choose to base their business here.
Wellbeing
Any Brightonian will tell you that wellbeing is a major part of life in Brighton. In fact, post-pandemic, many people moved from London to Brighton to take advantage of life by the sea in an artistic, bohemian city. There's always something going on in Brighton, and the colourful entertainment and nightlife industry is clear proof of that!
In fact, back in the 18th century, Dr Richard Russell prescribed swimming in the sea in Brighton to cure all sorts of ailments with saltwater therapy, which put Brighton on the map as one of the UK's most desirable seaside resorts. Even today, you'll find people taking a dip in the sea after work, enjoying a session in the Beach Box Spa and sauna on the beach or taking a leisurely stroll along the promenade or through one of the Brighton's many parks, so wellbeing is high on the list of what makes Brighton brilliant.
Business Activity
Brighton is full of business success stories. For instance, did you know that global skincare brand The Body Shop started its life in the city?
But don't just take our word for it! Startup.co.uk's index actually found that Brighton is the third-best city in the UK for business activity, following Manchester and Leeds, with its impressive new business percentage increase of 10.7%.
So what does this mean for you? It means that we LOVE new businesses in Brighton! You'll get access to one of the biggest and most supportive communities in the UK, a wealth of business resources, spaces and expertise, and some of the best talent in the entire country.

If you're thinking about starting a new venture, why not set yourself up for success with a serviced office in Brighton? You'll be doing yourself – and your business – a huge favour!