Today marks Take a Walk in the Park Day, a national day to encourage enjoying the benefits of taking time to be in nature. To celebrate this we've put together our run down on Brighton's best parks and outdoor spaces, so that you can go and take a walk in your favourite, whether before, during or after a day in the office. Thankfully this is a city that's blessed with many fantastic parks to let's look at our top picks.
Queen's Park
This gorgeous park located north east of the city centre, close to Hanover, features a beautiful pond with geese and moorhens. There's a separate dog walking area so a significant part of the park is dog free and this includes the well appointed children's playground which is definitely a cut above your standard swings and seesaw set.
The lawns are lovely and feature a Grade II listed clock tower (a feature of many Brighton parks) and there's a small cafe in the playground that's open for teas and ice creams in the summer months. There are six tennis courts, a bowls lawn and a very pleasant secluded scented garden for the blind.
As well as the curious Victorian folly of the Pepperpot, the park is also known for hosting an artisan bakery in its former public toilet block!
Queen's Park is about a ten minute walk (uphill) from Jetspace's Brighton building and there are few green spaces that come close to it when the sun is shining.
Preston Park
Perhaps one of the best known parks in the city, primarily due to its size and the fact that you can't miss it if you're coming in to the city from the north. It's so big in fact that it even has its own mainline railway station!
Being the city's biggest park, Preston Park regularly hosts concerts, festivals and large outdoor events so often acts as a big draw for visitors to the city. Among its finer features is the beautiful rockery that sits just across the road on its western edge, the largest municipal rock garden in the UK!
There's a walled garden and a splendid manor house nestled within the vast estate whilst the sporting facilities are second to none. The park is home to a cycling velodrome, 8 tennis courts, 2 basketball courts and 4 football pitches. There are also two separate cafes, both open all year round.
You can reach the southern tip of Preston Park within a 20 minute walk from JetSpace Brighton, though some tennants who commute in might prefer to get off the train at Preston Park station on a nice day and walk through the park on their way to the office.
East Brighton Park
At first glance this big open space seems fairly nondescript when compared with some of the more ornately designed parks in our city. There are football and cricket pitches, with plenty of dog walkers, but the real beauty of this park is the access it provides to the glorious Sheepcote Valley nature reserve immediately behind it.
This hilly reserve affords incredible views across the sea and over the city below, and there are plenty of options for nature filled hikes. Back in the park itself you'll find a cafe that's open year round and as well as the aforementioned cricket (2) and football (2) pitches there are 2 tennis courts, 4 all weather sports pitches and a small playground.
East Brighton Park is also used as a landing zone for air ambulances dropping off patients for the nearby Royal Sussex County Hospital so helicopter spotters could be in for a treat!
Walking here from JetSpace Brighton is a good 40+ minutes though there are plenty of buses that will whisk you there far quicker. If you have time to spare and the sun is shining, East Brighton Park can be reached via a leisurely stroll along the seafront.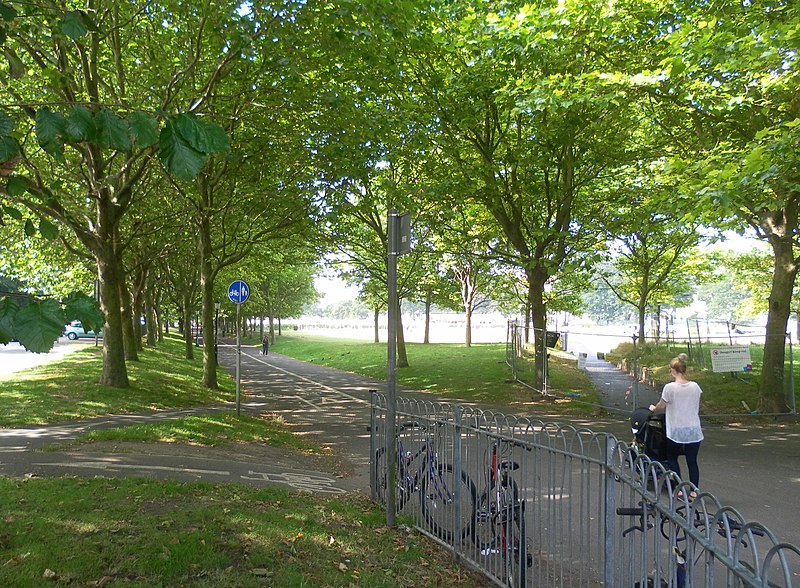 The Level
This triangular patch of land bordered by roads on all sides was once a pretty depressing and unloved park that was more likely to harbour ne'er-do-wells than actual plants. However in recent years investment from the council has transformed the Level into a fantastic city centre park for all to use.
This is the most centrally located park of any significance in the city and easy to reach from most parts of the city. It features a popular skatepark, sensory play area, large playground with water features, sensory play area, table tennis, petanque and you can even play chess on the picnic tables dotted around the park.
The park's cafe is currently closed for refurbishment but there's a small coffee kiosk on the southern edge with particularly decent brownies available. You can reach the Level form JetSpace Brighton via a short ten minute stroll along the pleasant Valley Gardens and past St Peter's Church.
Want to be able to enjoy Brighton's wondeful parks on a more regular basis? Why not work from our central Brighton serviced office and take advantage of the many benefits we can offer your business!