All right we might be biased, providing high quality affordable serviced office space in the heart of Brighton. But there's a reason Jetspace's Brighton building is located where it is. There are actually many great advantages to having an office space in the city and in an era where home working has become more commonplace it can often be overlooked just how valuable city centre office space can be for your business.
In this post we've outlined just some of the top advantages to being based out of a city centre office.
Access to a Greater Talent Pool
Whether your'e just starting out or you're an established firm with growth ambitions, you're going to need reliable, talented staff to help your operation flourish. Brighton has always had a great talent pool to draw from thanks to its high desirability continually attracting new residents and workers. Plus the two universities at Falmer churn out high quality graduates every year, many of whom choose to stay in the city for the same reasons so many new poeple move here each year.
With the nation currently in the midst of a labour shortage hiring the right staff is harder than ever. To give yourself the best possible chances of finding employees with the experience and skills you need, you want to have options. If you're only getting a handful of low quality applicants for a position you're seeking to fill, sooner or later you just have to bite the bullet and compromise, when workload becomes such that anyone is better than noone.
Basing your business out of the city, or at least having an office there, reduces the chances that you can't find what you're looking for. And for creative and digital industries such as marketing, communications and software development Brighton is an absolute hotbed of talent. What's more, with greater competition for jobs, you're less likely to have to pay top dollar for the jobs you're offering. Not that any Brighton business should be paying less than the National Living Wage (which is higher than the government mandated Minimum Wage) but when your business is operating further from the more competitive talent markets, it's easier for the top talent to up their demands.
Better Public Transport Links
There are several reasons to consider the availability of and access to good public transport. First and foremost, the easier you make it for staff to get in to your office on days they need to be in, the better their morale. Nobody wants a lengthy and tiresome commute to get in and out of work after all.
Brighton is served by eight railway stations within the city boundaries, coming from the north, east and west (there's a fairly obvious reason why there aren't any coming from a southerly direction). This makes it easy to get to Brighton within 30 minutes from the likes of Haywards Heath, Burgess Hill and Hassocks to the north, from Seaford, Newhaven and Lewes to the east and the likes of Worthing, Lancing and Shoreham out west. What's more the city's bus services are excellent, running frequently day and night from every corner of the city and further afield.
Of course the ability to offer your staff and visitors reliable public transport options to reach your office helps bolster your business' sustainability credentials too. And there's nothing more sustainable than travelling by bike or on foot, which is also considerably easier for those living in and around Brighton than it would be were you situated on an out of town trading estate or smaller town where staff had to come from further afield. In fact, you could technically even swim to work with a central Brighton office, though there might be a few practicalities to iron out to make this realistic!
Anything you can do to reduce reliance on cars has to be a good thing and every car taken off the road for commuting reduces harmful emissions that we all know have to be ultimately eradicated. The high costs of car ownership should also be a consideration. Ultimately if staff don't need to rely on using a car to reach your busines premises that's more disposable income they have form their pay packet. Even with rail fares as high as they are in this country, its still almost always cheaper to use a train if there's a direct route, rather than fill up your own car with fuel and deal with the tax, insurance and MOT costs. And that's before we've even mentioned the high costs of parking in the city!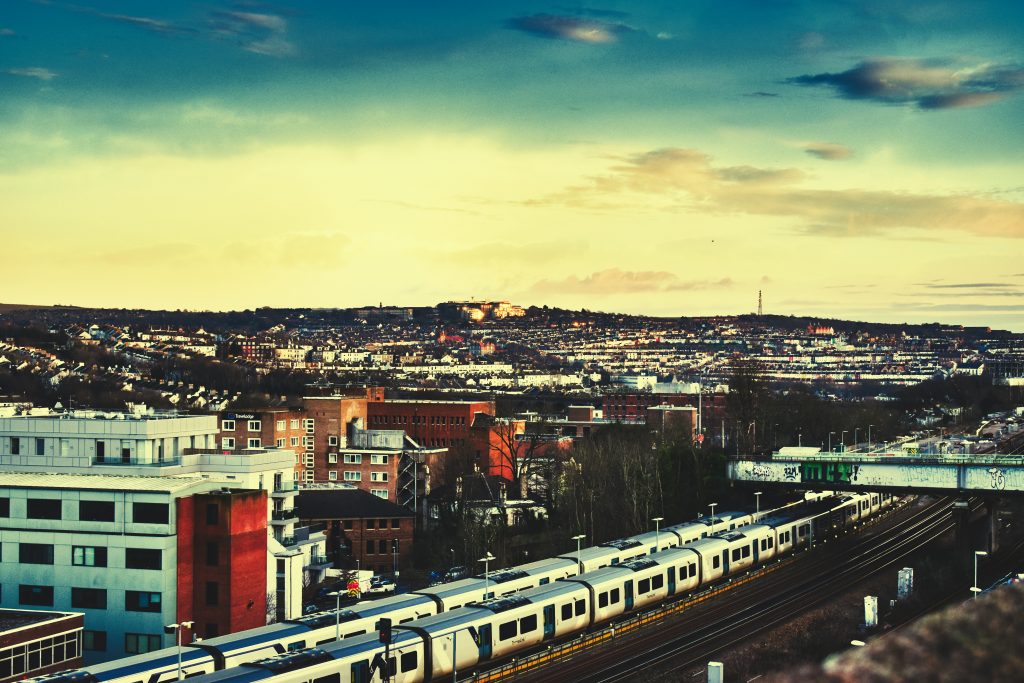 Greater Access to Useful and Enjoyable Amenities
If we compare a city centre office in Brighton to somewhere on an out of town trading estate, you'll probably find in the lattr scenario there's a burger wagon and perhaps somebody who comes round selling sandwiches. In short therefore, your lunch options are limited. In the cntre of Brighton however your options for lunching are practically limitless.
Whether you want a quick snack from a local supermarket, a healthy sit down meal from a pleasant cafe (take a look at our recent post on Brighton's best healthy lunch spots) or the unbeatable treat that is a succulent burger (and again, we ranked some of Brighton's best burgers on our blog previously), the city has the lot all within moments from your office.
Beyond options for eating, Brighton is also a great place for provision of useful bsiness resources from event spaces to host your own functions through to the many printers and copy shops. Say you're off to an important event and have run out of business cards. You can easily get some fresh ones produced within the hour from any number of local design and print firms.
Increased Networking Opportunities
No matter how much work is delivered online today, nothing beats the value of in-person face-to-face conversations with fellow business owners and execs. Making useful contacts and ultimately signing off new business becomes so much easier when you've got access to the vast array of local business networking groups available in Brighton and Hove. We actually put a post together assessing some of the best local networking groups if you're looking for some recommendations.
Of course networking groups are available across the country but having a greater variety of options within the city allows for more specialist connections tailored to your business requirements.
Hopefully this has helped convince you of just why so many businesses continue to enjoy attractive, well-located business premises in the city and of course if you're seeking serviced office space in Brighton just get in touch with us to find out about current availability.