As it's January and many people are reassessing their approach to diet, health and wellbeing, we thought it a good opportunity to run through some of the very best options in Brighton for a healthy, wholesome lunch. Whether you're nipping away from your desk for a quick snack or taking clients out to dine without wanting something that'll make you feel guilty, there are plenty of great places in Brighton for lunching whilst staying healthy.
Of course there are different definitions of being healthy and you might be resolved to eating more plant based foods this year, following a keto/paleo diet or just looking to drop your calorie intake generally and avoid typically unhealthy fast food. Whatever your goals for eating better in 2023 and beyond, we've handpicked some of the best spots in the city to deliver you the nutrition you need.
Lovefit Cafe
Just down the road from the station and conveniently located close to both the PureGym and Fitness First, this long established healthy food cafe bills itself as the country's original high protein restaurant, serving what they describe as "gym food". Its been around for over 15 years so they must be doing something right.
Their focus on high protein and clean carbs will appeal most to fitness fanatics but that shouldn't put you off if you're not someone used to pumping iron in the gym. They actually cater to lots of different dietary styles so if you want something low carb and protein rich you'll be just as well served as if you want something packed with energy to help you smash an intense workout session.
Among the highlights on their menu are the range of near guilt-free low fat, lean protein "surfer burgers" with meat and plant based options available. These do a great job of filling you up with what feels like a naughty treat, but without any of the horror you feel after polishing off a Big Mac.
Lovefit Cafe, 110 Queens Road, BN1 3XF
Iydea
This is another well known Brighton cafe that has been around for many a year and will be familiar to plenty of locals. Situated in the bustling Kensington Gardens, right in the heart of bohemian North Laine, Iydea is the ideal choice if your new year's resolution involves cutting down on your meat consumption.
All their food is prepared from scratch using raw ingredients each day so there are always different vegetarian specials available for you to load up your plate, or takeaway box, with. It's a tried and tested formula where you queue up to pick one main, one side and then any number of toppings such as seeds and sauces to build your perfect lunch and the quality is always excellent.
From hearty and filling dishes like bean enchiladas and rice through to lighter soups and salads with leafy greens and sunflower seeds, there's plenty of choice and all their food is delicious and fresh, with gluten and dairy free options always available. The place does get busy, particularly at lunch time, but they run a well oiled machine so you can be in and out within minutes even when there's a queue out the door.
Iydea, 17 Kensington Gardens BN1 4AL
Jack & Linda Mills Traditional Fish Smokers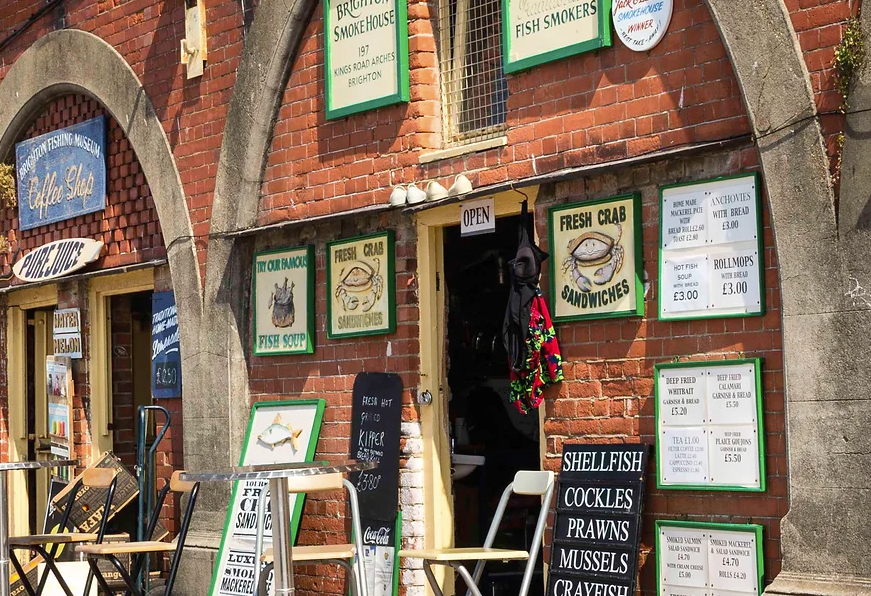 Most of us should be eating more fish and shellfish according to the NHS, with official advice recommending at least two portions of fish a week, one of which should be oily fish like mackerel. When you live next to the sea, unless you're vegan or vegetarian, you've really got no excuse!
Situated in the seafront arches between the piers, Jack and Linda's is a no-nonsense smokehouse selling local smoked fish and shellfish, served in soups or sandwiches. Simple as that.
It's a Brighton institution and a long-running family owned local business that's loved by locals and tourists alike. You can grab and go or if it's not wet and miserable you can perch out the front and watch the waves crash against the pebbles of the beach. The fish is always fresh and delicious and its enduring success lies in its simplicity and very reasonable prices.
Jack and Linda Mills Smokehouse, 197 Kings Road Arches BN1 1NB
Purezza
Hang on a minute, a pizza place?
Well this might not strictly meet your definition of "healthy" but Purezza's entirely plant based menu and gluten free options will appeal to many looking to cut out meat and wheat from their diets. It was actually one of the first fully vegan pizza restaurants in the UK and their pioneering spirit has helped them to become one of the best.
Vegan cheese has come a long way in recent years, meaning that entirely plant based pizza now tastes better than ever. In fact the menu at Purezza is considerably more aventurous than you'd find at a typical pizza house, with a wide range of diverse tasty options on offer.
What's more, if you're not after the doughy deliciousness of a pizza you can get a nice light bowl of courgetti spaghetti or a salad instead, and nobody will argue those aren't wholesome healthy options, even if the pizzas might be stretching the definition a little.
Purezza, 12 St James' Street BN2 1RE
All of these great healthy eateries are within walking distance from JetSpace's serviced offices in Brighton, so whether you're a current or prospective tenant, be sure to check these fine establishments out next time you're stretching your legs on your lunch break.