As a sole trader, you have the freedom to choose where and how you work. Two popular options are renting serviced office space and working from home. Each has its own advantages and disadvantages in terms of cost, productivity and work-life balance. Here's how to determine which is the better choice for your business: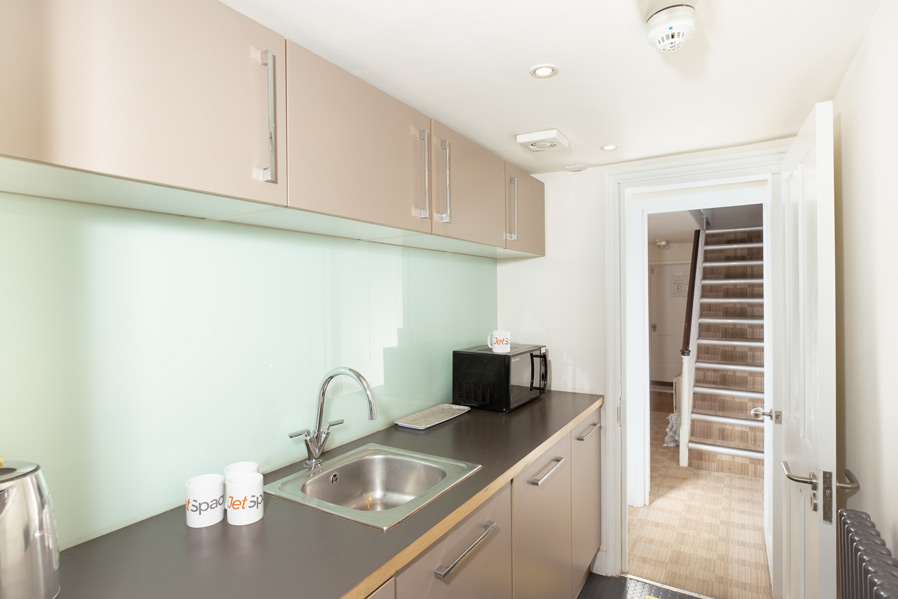 The Serviced Office Model
Serviced offices provide dedicated workspace in a professional office environment. The primary benefits include:
• Separation between work and home life. Having a separate office helps avoid distractions and establishes clear boundaries between professional and personal time. If you have a young family and limited home space, you'll definitely appreciate the ability to escape the house in favour of a dstraction free office environment.
• Fewer equipment and facilities costs. You'll usually have access to essential amenities and technology like superfast reliable Wi-Fi (not always available in the home, particularly if you live in the country), printers and meeting rooms without large upfront costs. It's not always cost effective to pay out for equipment you'll only use once in a blue moon so having access to tech for occasional use can be very useful.
• Networking and interaction. You'll be part of a community of other businesses and professionals which can lead to networking opportunities and collaboration. From casual conversations in the corridor to more orchestrated interactions through networking events or simply reaching out to your neighbours and fellow tenants looking for business synergies, it's hard to understate just how valuable workplace connections can be to both growing and well-established businesses.
• Easier separation of personal and business costs. Your serviced office fees would all be considered wholly tax deductible whilst working from home requires calculations on how much of your rent/mortgage and utility bills are business related.
• Presenting a professional image. Meeting clients or business partners at a serviced office conveys a polished, established impression. It also gives you a nice address for stationery, business cards and your website etc. Rather than having to share your home address. In fact, sharing a business address has implications for your online visibility too and if you're not comfortable revealing your home address to those looking for you in a professional capacity you could find your website falling behind those of rivals. This is particularly important if your business relies on local customers and clients.
However, there are of course fees to keep in mind:
• Monthly rental fees which vary depending on office size and location. Fees typically cover rent, broadband, utilities and general facilities but extras like meeting rooms may cost extra.
• Commuting costs and time. Obviously you'll need to factor in transportation to and from your office which adds expense and can be stressful and time-consuming. Unless you can walk or cycle of course, which come with added benefits.
Working from Home
For many sole traders, working from home makes financial and practical sense:
• Little to no overhead costs. You won't have rental or commuting fees, and you can use existing home facilities, such as the broadband you're already paying for.
• Flexibility and convenience. Without a commute, you have more time to spend with family and avoid busy traffic or crowded trains/buses. You can also work around personal schedules and in a space tailored to your needs.
• Tax benefits. Part of your home expenses will usually be tax deductible since you're using space for your business. Though it's a little more complex to work out than paying for dedicated work space elsewhere, you'll receive a tax break on costs you'd already be accruing. Check with an accountant to determine how to properly calculate home office deductions.
However, working from home can present challenges:
• Blurred work-life boundaries. Without a separate workspace, it can be difficult to achieve a work-life balance and avoid distractions or stress. Plus you run the risk of being attached to your desk all day without ever leaving the house if you've nowhere to get up and go to.
• Fewer networking opportunities. Interacting with colleagues isn't as convenient, so you'll need to make an effort to network through other channels. As connected a world as we live in today, nothing beats face to face interactions.
• Less professional perception. Meeting clients at your home could be seen in a negative manner depending on your industry, interactions, location and space. If presentations or client meetings are a key part of your business, a serviced office will likely have advantages. What's more your serviced office location may very well be more convenient and easy to access than your home, depending on where you live.
In the end, your decision will depend on a range of factors, priorities and budget. Think about which pros and cons are most important for your business and personal needs. A serviced office or home-based workspace could both be viable options, but a hybrid approach might be ideal. Carefully evaluate your choices to find what will work best for your sole trader business in both the short and long term.
If you're seeking a calm, modern, well located office suite to operate from, JetSpace have serviced office space in Brighton available so get in touch with us if you'd like to know more.