The UK office market continues to experience seismic shifts in response to changing market conditions and consequently business tenants are forced to reevaluate their current needs and how they can accommodate future demands. These changes don't just impact the major hubs of the UK though London is suffering just like other towns and cities. In fact office space vacancy rates in London rose from 10.3 per cent to 10.8 per cent over the past year. So what can we expect from the office space market in the UK over the coming years?
Office Space Trends in the UK
The UK has always been a hotbed for progressive businesses and, as a result, office space demands have evolved over time. But with the pandemic having accelerated the dramatic change in working habits of most people in the country, we are veering into uncharted territory.
As firms have gradually begun welcoming workers back to offices, much has changed from the past. There's now far greater demand for collaborative workspaces that offer alternative solutions for companies of all sizes. The cost of renting such office space remains high as demand continues to outweigh supply.
Current trends suggest that businesses are moving away from traditional office blocks and towards more flexible working arrangements. This is obviously largely because technology has made it easier for people to work from home or on the go, but has also allowed for finding a higher calibre of staff in areas where there is less competition. As there's no longer a requirement to be based in the same place as your company, applicants can come from further afield, giving greater choice to the hiring firms.
Brighton has long been known as a digital and creative hub but as the increased cost of living pushes more and more workers further from the city itself, the embracing of remote working helps negate the effects of this potential brain drain.
How the UK Office Space Landscape is Changing
Cast your mind back to when everyone worked in an open-plan office. It was the standard way of doing things as companies attempted to create an environment conducive to collaboration and creativity. But open-plan offices haven't always been popular with everyone.
In many cases they are linked to decreased productivity and stifled creativity, increased stress levels and a general feeling of unhappiness in employees. This is because they can be noisy and distracting, making it difficult for people to focus on their work.
As a result many companies are moving away from big open-plan offices and towards more partitioned layouts, with private offices, breakout areas and meeting rooms. We're far more likely to take a dim view of someone taking calls in an open-plan environment nowadays, particularly if there are places they can have these conversations with more privacy. This is just one of the ways in which antipathy towards traditional office layouts now manifests itself.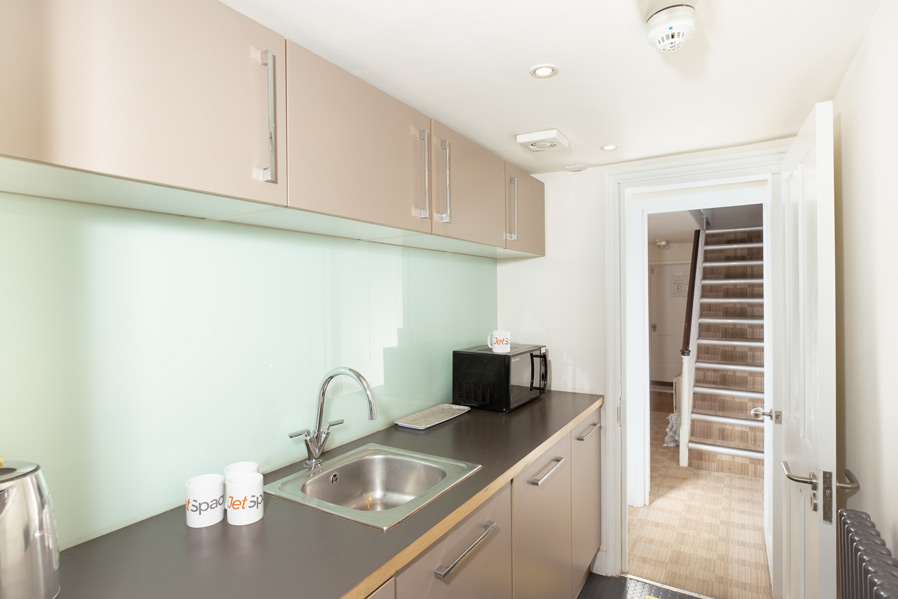 The Future of Office Space in the UK
Whilst there are of course going to still be plenty of firms who feel best served by big open-plan spaces, many businesses recognise this isn't the best fit anymore. Companies are now looking for more flexible options with spaces that can be adapted to their needs.
With fewer staff required onsite at any one time, thanks to the productivity benefits of remote working, downsizing of office premises is now common. It's not just better for cost efficiency savings, but better for employee morale too. Removing the stress and cost of a daily commute from employees' day to day lives has significant quality of life benefits
This has had a knock on effect on where business premises are located as there is a greater demand for spaces that can be used temporarily or on a short-term basis.
How to Find Great Value Office Space in the UK
If you're looking for office space in the UK, there are more options than ever to find great value. For many smaller businesses coworking spaces will have obvious advantages. Coworking office spaces offer flexibility for staff and can even help you win more business and find collaborators.
For other businesses keen on more permanent desk space it can often be worth negotiating with your landlord for all-inclusive office space on flexible terms. Serviced offices are ideal in these situations and avoid the bothersome struggle of long-term leases. It also means you're not negotiating with multiple suppliers for various core services such as internet and heating/lighting etc.
JetSpace have serviced offices available in Brighton offering an all-inclusive workspace solution that provides flexible, well appointed office suites for growing and established businesses in the area.
If you'd like to know more about how your business can take advantage of having centrally located city centre office premises without the cost and maintenance of an ongoing lease get in touch with us.