In honour of the fact that this month sees both National Cappuccino Day (8th November) AND National Espresso Day (23rd November) we thought this would be a great opportunity to highlight some of our favourite coffee shops in Brighton.
Ours is definitely a city of coffee lovers and we're lucky to have some truly excellent independent local roasteries and outlets, from simple streetside kiosks to cosy cafes. Given the almost overwhelming choice we've focused solely on local indepenedent coffee shops that are within the city centre (sorry Hove). Quality of their coffee is the primary ranking factor although general ambience and cake offering have also been considered where appropriate.
So let's take a look at our top Brighton coffee shop picks. In no particular order…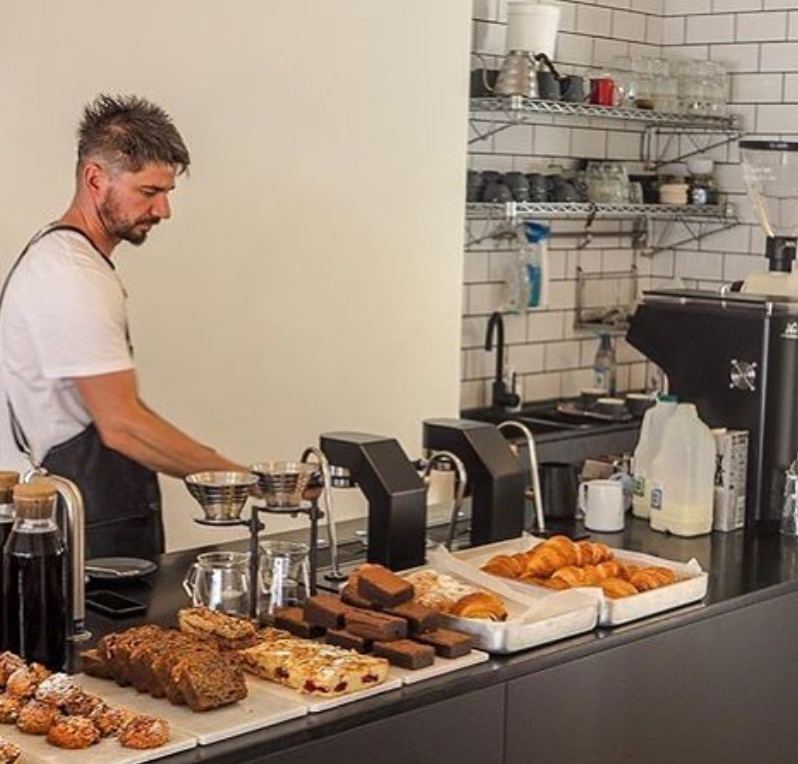 Coffee @ 33
This is a true no-frills coffee shop that's handily located at the top of Trafalgar Street close to Brighton station. Don't expect music, cosy sofas or whipped cream topped syrupy drinks, Coffee @ 33 is all about the coffee and nothing but the coffee. As you might expect therefore, the coffee is indeed excellent.
There's some seating inside for a quick stop, with old coffee bean sacks serving as (not especially comfortable) cushions and a few high stools too. But ultimately this is a place to grab and go. They often have delicious Portuguese pastéis de nata (custard filled pastries) available alongside a limited selection of decent brownies, cakes and croissants.
Coffee @ 33, 33 Trafalgar Street
Twin Pines
This is one of those effortlessly cool coffee establishments where you almost feel out of place if you're not dressed as an extra from the Great Gatsby. You needn't worry however as this Kemptown joint obviously welcomes all and the staff are incredibly friendly.
Upstairs there are plush sofas and sparkling water on tap whilst if you take the narrow spiral staircase to the basement room you'll find a delightful little snug that's beautifully decorated, warm and inviting. There's no WiFi so you can enjoy your entirely excellent coffee (served in the most beautiful small handleless ceramic cups) without being surrounded by students on laptops.
Twin Pines, 11 St James' Street
Black Mocha
Situated in a busy pedestrianised street of the bustling North Laine Black Mocha is famed for its signature (wait for it) black mocha! It really is worth giving this rich and luxuriant dark chocolate and espresso combo a try though visitors will also find that their lattes, cappuccinos and flat whites are all first rate too. What's more they roast their own coffee from a site in Hove so you won't find these beans anywhere else.
The cafe itself is spread across two floors with a handful of small tables. It's not somewhere to bed in for a long session but the cakes, pastries and light bites they offer are well worth grabbing a seat for if there are any available.
Black Mocha, 103 Gloucester Road
Helm Ston
This quirky little cakes and coffee shop is tucked away just off the bottom of Trafalgar Street and is easy to miss if you don't know what you're looking for. However it's well worth seeking out for great coffee and some absolutely incredible cakes that are all made onsite. This one is ideal for vegans or those with any special dietary requirements such as being gluten free as the wonderful cakes are available catering to near enough every possible need. They're also really adventurous creations the likes of which you'll not find anywhere else.
The shop is tiny so if there are already more than four people sat down you might have to wait or just get a takeaway however if the weather's pleasant you could take your coffee and cake to enjoy in the nearby Pelham Square garden. The only drawback with this charming little establishment are the disappointingly limited opening hours so check before you make a visit.
Helm Ston Cafe, 1b Pelham Street
White Cloud Coffee
This local roastery began with a temporary location on the seafront that was part of the Sea Lanes pop-up. Sadly this had to make way for the long planned building work to bring a new outdoor pool to Madeira Drive however their solid reputation as expert baristas has meant they've been able to open a new, permanent site as part of the new Circus Street development.
At the time of writing the cafe itself is still a bit of a building site and is mainly serving takeaway coffee for the local residents and businesses in the area but that shouldn't stop you from paying them a visit. Their coffee is 10/10 and we can thoroughly recommend the flapjacks too. Hopefully in time they'll deck the cafe itself out as a place that's as high quality as the drinks.
White Cloud Coffee, 6 Market Street
These are just some of the many superb options for a cracking cup of coffee in Brighton and handily, all are within walking distance of Jetspace's central Brighton serviced office building!