Our genteel Sussex seaside city isn't the most office block filled of places, certainly not when compared with the likes of Crawley, Redhill or Croydon. However, we still have our fair share of sites catering to big firms or multiple corporate occupants and in this post we'll run through some of the more impressive purpose built office buildings in use today.
1 John Street
This is American Express's Brighton HQ, replacing the 70s built Amex House which was affectionately known as the wedding cake due to its tiered design of white glass reinforced plastic panels (the first site in the country to use them). The John Street building is 12 storeys of glass and coloured cladding and sits on a site adjacent to the company's former premises, which was demolished after staff had moved into their new home, in 2017.
As the city's largest private sector employer, AMEX were given permission to develop the huge imposing office building only on condition that they remain in the city long term. The US firm's contribution to the local economy is so significant that the council couldn't afford to let them depart for potentially cheaper premises elsewhere.
In an area of town that is noted for its less impressive architecture (the nearby police station, court buildings and Edward Street JobCentre are all 60s built blocks that divide opinion) the new AMEX HQ stands out as a symbol of modernity among the exposed concrete and grey cladding of its neighbours.
Trafalgar Place
This is a complex of large office buildings as opposed to a single block, arranged around a central court that's handily located right next to the mainline station. Built in the 90s the five buildings of Invicta, Lanchester, Mocatta, Napier and Victory have stood the test of time pretty well and remain some of the most modern stock of this size available in the city.
Notable tenants include the Pensions Regulator, Bupa Global, MetLife and Mott MacDonald. Much of Mocatta House is given over to smaller serviced offices and coworking space. Despite being 30 years old, the buildings all look very modern in the context of their environment, next to the 1840s built station and among the bohemian shops and cafes of North Laine.
1 Jubilee Street
Back in the 80s and 90s there was a huge central area of North Laine that was derelict land, given over to open air car parks and very little else. It was symbolic of the decline the city (then a town) suffered in this depressed era before plans were finally agreed to rejuvenate the area. At the turn of the century, after decades of neglect, the local authority attracted enough investment to redevelop the site.
Centred around an ambitious and ground breaking new central library building the Jubilee Square development was completed between 2005 and 2007 with the Jubilee Library itself a phenomenal success as one of the most visited libraries in the UK. Opposite the library stands 1 Jubilee Street, an attractive modern building of glass and steel with shops and restaurants at its ground level (including a Five Guys, Tesco Express and Yo! Sushi) and four storeys of offices above.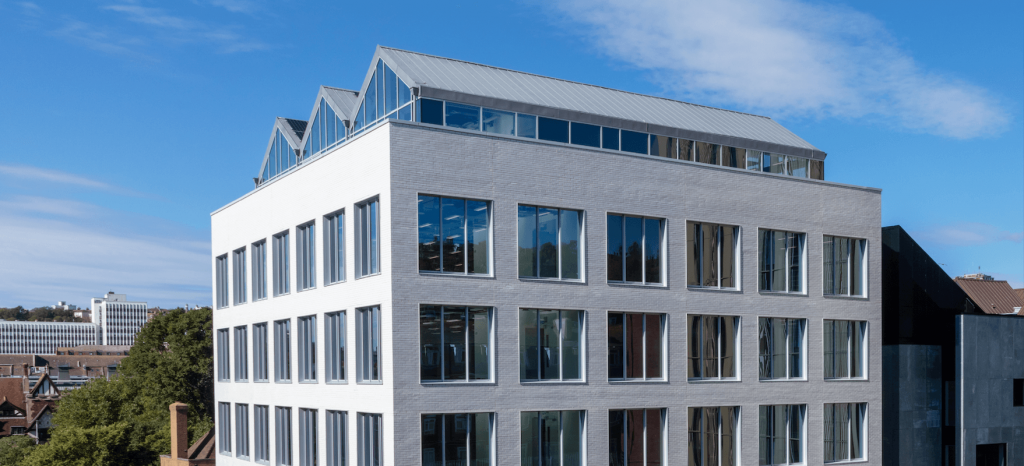 The Office at Circus Street
Though it won't win any awards for its name, this brand new six storey office block has brought some much needed life to an otherwise run down and sorry looking site set back from the busy Grand Parade central city thoroughfare. The former market on Circus Street had been derelict for many years before the new self-styled "cultural quarter" was redeveloped with The Office as its centrepiece and its bright, contemporary facade has been a welcome addition to the area.
The building has a whopping 31,000 square feet (over 2,800 square metres) of floor space as well as a roof terrace offering stunning views across the city and out to sea. Since opening last year the top two floors have been taken by local tech success story Hyve Manage Hosting but at the time of writing the remaining four floors remain available.
Office Block Alternatives
Whilst all of these notable local landmarks offer great facilities for large companies, the majority of local Brighton businesses operate from smaller premises, often in period buildings converted for commercial use. JetSpace provide serviced office suites in Brighton from our gorgeous Georgian property on Grand Parade, ideal for SMEs that don't want to commit to a lease on a bigger dedicated office block. Get in touch with us if you'd like to know more about availability in our Brighton building.
Image credits: Geograph, Circus Street and Geograph