JetSpace has popular well-appointed office buildings in Brighton city centre and on the site of Brighton City Airport, in Shoreham. But how much do you know about the airport and it's origins? If the answer's "not much" then this blog post should leave you able to answer the same question with at least "a little bit" the next time you're asked.
We love our base overlooking the runway of this historic airfield so thought it high time we shared some of the site's history to help explain why it's such a special place to work. With helicopters and light aircraft aplenty this small airfield is surprisingly busy today, but then why would you expect anything less from the world's oldest purpose built airport still in operation today?
Brighton City Airport: The Beginning
Previously known as Shoreham Airport until being renamed in 2014 to help associate it with Shoreham's considerably larger and better known neighbour, Brighton City Airport is located on a parcel of land nestled between the River Adur, the A27 Old Shoreham Road and the West Coastway railway line linking Brighton and Southampton. It actually sits within the parish of Lancing though is closer to the station and town centre of Shoreham-by-Sea. The land itself is owned by US investment company Kennedy Wilson and the runways and terminal building are leased and operated by international aviation consultancy firm Cyrrus. Used today primarily for private light aircraft enthusiasts and flying schools the airport actually has a rich history dating back to the early 20th century.
The site was first used as an aerodrome in 1910 and then served as a departure point for the Royal Flying Corps during the first world war. It was officially opened as a public airport in 1936, named Brighton, Hove and Worthing Joint Municipal Airport, and the now famous Art Deco terminal building was built in the same year.
Role in the Second World War
From 1940 the airport saw military use, serving primarily as a base for patrol aircraft and later as a training facility. It hosted Westland Lysander reconnaisance planes, Bristol 156 Beaufighters, Hawker Hurricane fighers, Supermarine Walrus amphibious reconnaisance aircraft and even squadrons of the iconic Supermarine Spitfire.
It played a role in the Normandy landings, being well positioned to support preparations for D-Day and was bombed numerous times. Thankfully the beautiful terminal building was unharmed although a Luftwaffe Messerschmitt Bf 109 came close, having been shot down during one bombing raid and crash landing very close by.
Another notable crash landing caused damage to a guardhouse on the airfield after a Boeing B-17 Flying Fortress bomber came down on its return from a German bombing raid.
Though it didn't gain a tarmac runway until 1981, the airfield played an important role during the war with its grass runway supporting the British war effort admirably.
Back to Civilian Use
After the war there was much debate as to the airport's future use. As commercial aviation began to rapidly expand in the jet era of the 50s and 60s it soon became apparent that Shoreham's relatively small site would never be big enough to be used as a major passenger airport. Even the once mighty Croydon Aerodrome, at one point London's main international airport, was forced to close in 1959 due to not being suited to modern commercial flying demands.
If Croydon couldn't survive in an era of giant transport hubs such as Heathrow and Gatwick what hope was there for Shoreham? Thankfully demand was there for the airport to serve general aviation use for light aeroplanes, helicopters, flying schools and private leisure flights. In fact today it is one of the country's busiest general aviation airfields, handling approximately 50,000 aircraft movements annually. It has also welcomed a number of aviation related and other businesses to the site, including Transair Flight Equipment, helicopter training school Advance Helicopters and Northbrook Metropolitan College.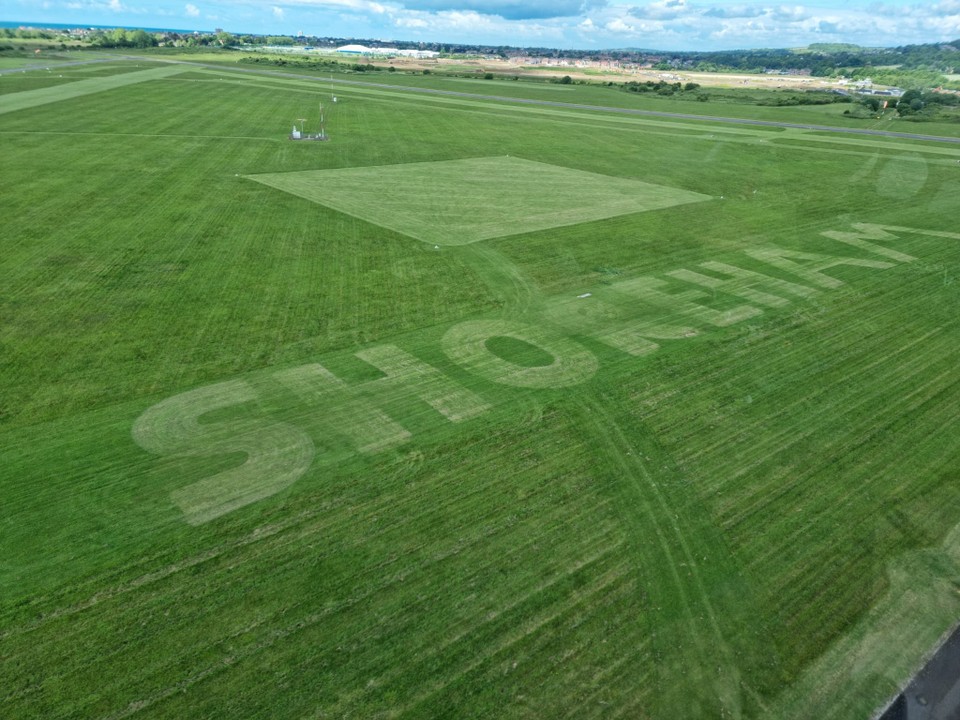 Brighton City Airport Today
As well as its use as an airport the site has also been used to host events and festivals including the Wild Life festival. It was also the home of the annual Shoreham Airshow featuring aerial displays from military, acrobatic and historic aircraft until tragedy struck in 2015. A Hawker Hunter crashed into the A27 road north of the airport killing 11 people and the show has not been held since.
Though there are no scheduled flights operating from the airport currently, attempts have been made in the past to connect Brighton with Paris and plans are afoot for a regularly scheduled service to Alderney. With both asphalt and grass runways in operation the airport has an advantage over smaller airfields in the area and is only likely to grow in terms of traffic numbers in the years to come.
Brighton City Airport has played a significant role in the history of aviation in the UK. From its early days as an RAF base to its modern use as a local hub for general aviation, it has continued to evolve and adapt to meet the changing needs of aviation enthusiasts.
If you'd like to base your business out of this beautiful historic airport, get in touch with JetSpace to enquire about latest office suite availability